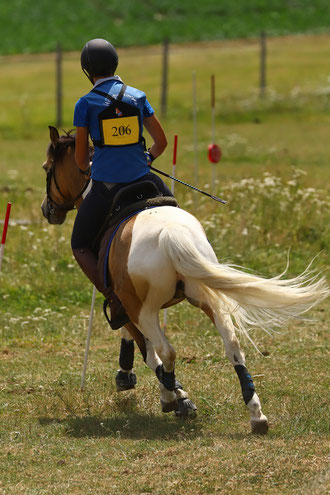 Competitions are the ultimate training sessions. It's the best place to see how well you've worked on something specific. It gives you a deadline and therefore an objective.
🔹
Personally the rankings are secondary when I compete. Of course I love coming away with a great ranking but that might not always be possible and depends too much on external factors you can't control, specifically in a discipline as varied as TREC, so I don't put much store into finishing at a precise ranking.
🔹
What I look for is an improvement on one aspect from TREC to TREC, a tiny 1% improvement from outing to outing. I have a general idea of what I would like but you never know what to expect on the PTV course until you walk it, so at that moment I'll be more precise in what I would like achieve.
🔹
Kivi's greatest weakness is his distraction. And when he gets distracted he doesn't do things very well which then upsets and distracts him further... You get the picture, it becomes an infernal spiral.
🔹
His distraction will play up differently from TREC to TREC but generally seeing another horse on the course is the biggest trigger. It's something that comes up when we work at home too, so can be worked on.
🔹
When out competing, I know I can't get rid of it, it's part of who he is fundamentally. So I look for an improvement. On PTV A he didn't refocus, on PTV B it took 5 obstacles to get him to refocus, on PTV C only 2. For me that's improvement and what I'm looking for and so in regards to our objectives on this they are achieved. Of course certain PTV courses make it harder to keep moving forwards. At the last one it was a constant yo-yo between focused and distracted, making the slow obstacles very difficult to negotiate.
🔹
As Kivi has a warrior attitude, all this is just strings to his bow. It gives him tools to work with next time around. You feel it working inside him from TREC to TREC, especially with obstacles he knows. The Swiss Championships this year were a big gamble, but he showed off his warrior attitude by coming back stronger and more confident than before the weekend.
🔹⬇️🔹
How do you tackle competitions?