Once the TREC of the SHAE tidied away, it was time to finalise the preparations for the Swiss TREC Championships in Geneva where Lutin and Movana were taking part in the amateur category. They left the stables Friday afternoon, tackling Geneva traffic and arriving just before a big thunderstorm. Saturday was the POR- map reading – on French and Genevan soil and a provisional third place. Sunday was the MA and PTV courses. A slight difference in the interpretation of precision for horse and rider, but despite the pressure from the rankings, lots of pleasure and great sensations on the course.
At prize giving, Movana and Lutin were on the third step of the podium, with a bronze medal. Well done to both of them!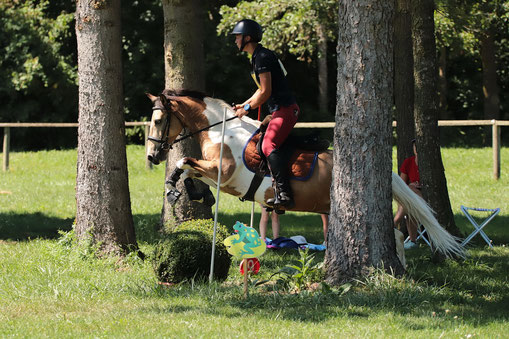 The weekend after it was Kivi's turn to go to his first TREC with a map reading course. A very eager and applied pony, despite such an outing no longer being in his habits as he is spending more time in an indoor school than out on bridle paths lately. In the end, a great 2nd place for him. Well done Kivi!