The Horses
Starlight Dancer - our dancer is growing!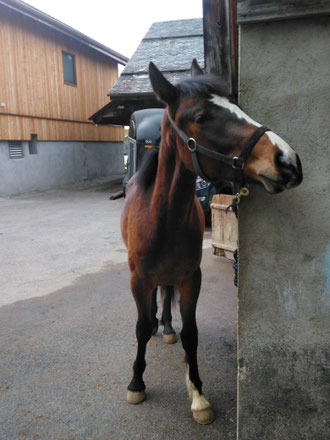 Star has grown this winter, standing at 15hh, and has made good progress in his basic training. He now travels in the horsebox, accepts noisy plastic and goes out hacking alongside Lutin in all three paces. For grooming and being tied up he's angelic, enjying the moment and giving his feet easily. He doesn't allow the "oldies" to boss him around so much and loves a bit of attention, especially if there is a carrot involved!
Bella - our pillar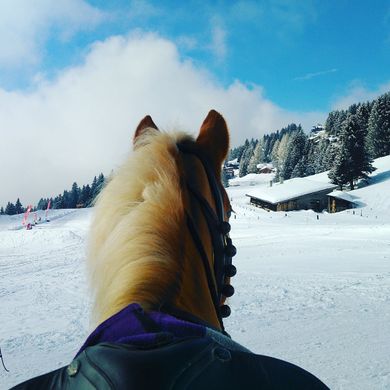 Bella is, as ever, true to herself; a pillar, our rock, our beautiful blonde who loves the snow and anything related to it. This winter she helped Lutin in his ski joering training, a job she did so well he's gained in confidence no end and now wants to be in front during our ski joering rides. She has also allowed innumerable number of kids to do their first ski joering outing with confidence during our initiations at Frience.
Lutin - boss-by-excellence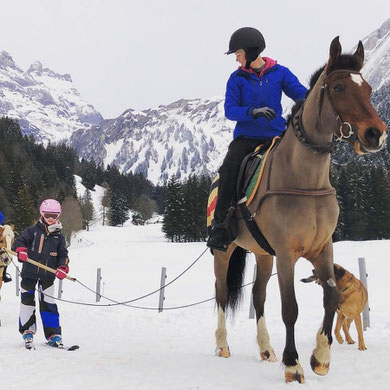 Lutin is enjoying a pause from competitions. After his 2nd place in September, he won't return to TREC competitions until August this year. After an eventful 2017 season (yes, we almost gave up altogether on TREC as a partnership), he gave me a magnificent season in 2018 with 3 podiums on 4 outings.
So he is now enjoying a restful time from the stress and deadlines of competitions and the impact is already noticeable. He was gained in confidence ski joering, enjoying it so much he wants to be in front, and has evolved no end in snow, enjoying it in the process. At the Ski Show, he knows how to play the star to everyone's delight, although I sometimes find my hands a bit too full!
Kivi - our phenomenal pony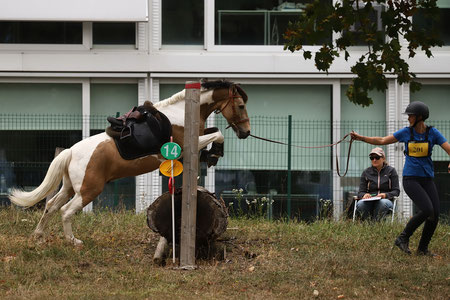 So this means that our TREC season will start with Kivi, who has filled Lutin's shoes with little difficulty during our first TREC in April. Now we need to find our rhythm as a partnership during the map reading course; a great challenge before the Swiss Championships in July!
Benjy - our Budda-pony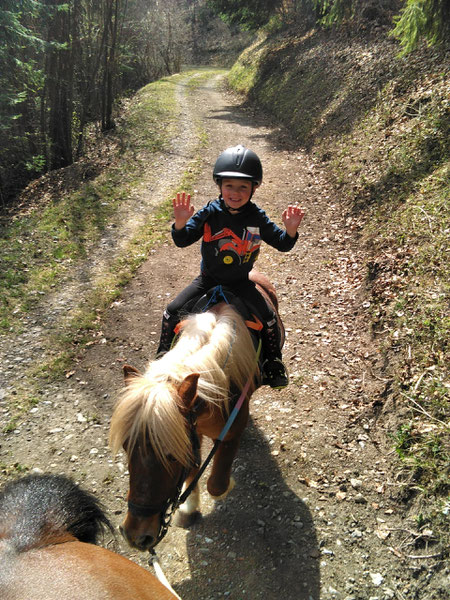 Benjy always amazes us with his zen-attitude when we are working away from home. He takes everything in his stride; from skidoos to parachutes, dogs, noises, etc... On top of all that, he gets to roll in the snow, over and over and over again, what happiness!
Out on hacks, he loves to race Lutin with a huge acceleration when he's on the lead, to the great pleasure of his little rider Jérémie, holding on with two hands and an ear-splitting smile on his face, laughing with joy as I almost get wrenched from my saddle!
Cantero et Jenny - they know how to make room for themselves!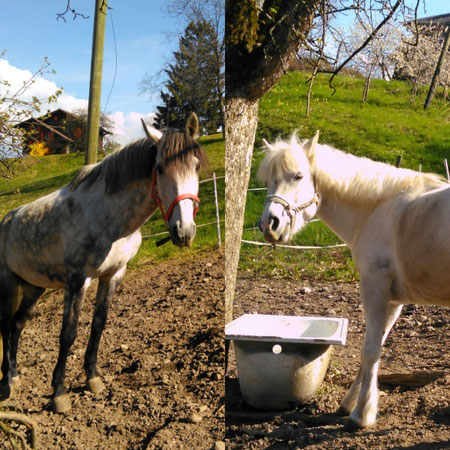 In March, two new liveries arrived: Jenny, who will work with the other, a pretty little mare with a fiesty character who will find a way straight to your heart, and Cantero, a Spanish gelding on private livery.
After a short noisy day in the field, the 6 horses get on a treat. Benjy would chase Cantero round the field (not a bad thing for their extra fat storage), but the hierarchy needs to be set and after a few days the herd settled down again. Now Star and Cantero play together, Jenny is in love with Lutin (to Bella's dismay) and Benjy has gone back to his habits of lathering layers of dust, dirt and mud for the students to brush off, leaving Cantero to his business.